Expo 2018 Website, Registration & Payment
ISM-Houston cordially invites all Houston area suppliers to participate as exhibitors at this year's annual Expo 2018, our biggest event of the year! As part of this event, you will have the opportunity to meet face-to-face with Houston area supply chain and procurement professionals from a wide range of industries, including oil and gas exploration, manufacturing, construction, transportation, utilities, trade, education, healthcare, and government. This is an excellent forum to enhance brand recognition and develop new leads.
This year's annual Expo 2018 is being held at the:
Houston Marriott West Loop by The Galleria
1750 W Loop S Fwy
Houston, TX 77027
Annual Supplier Development/Diversity Dinner Meeting
ISM-Houston's Annual Supplier Development/Diversity Professional Dinner Meeting immediately follows Expo 2018 and always brings in a large crowd. We are expecting more than 100 members and guests at this combined event. Each member and guest will be given a special incentive to visit every supplier's booth, encouraging each to speak personally with every supplier. This year's dinner program features a distinguished speaker panel that will share insights and best practices relating to supplier development and diversity:
Edaurdo Nunez, General Manager Global Procurement at ExxonMobil.
James Harris, Director Diversity & Inclusion and Supplier Diversity at H-E-B.
Matt Brand, Senior Vice President, Corporate Partnerships, Houston Astros - Major League Baseball
2018 ISMH Expo and SD Invite Flyer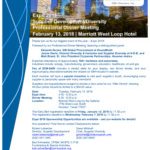 Exhibitor Fees
Your Exhibitor Fee covers a skirted table for your display with two chairs; two dinner tickets; your company brand (or name) on our Home page until the end of March; and your company brand, name, short description of product/service, and your web page link on our Expo 2018 "Be a Sponsor" page until the end of May.
Additional dinner tickets may be purchased at the ISM-Houston Member prices through our Home page/Evenbrite site:
$35 Early Bird thru 5:00 p.m. on Wednesday, February 7,2018
$40 Regular thru 12:00 Noon on Monday, February 12, 2018
$45.00 Late Purchase thru 8:00 p.m. on Tuesday, February 13, 2018 (subject to meal availability)
Pricing is two-tiered based upon exhibitor location in the ballroom, per the floor plan:
Early Bird:
Premium $375.00
Standard $350.00
Regular:
Premium $400.00
Standard $375.00
Expo 2018 Glass Palace Floor Plan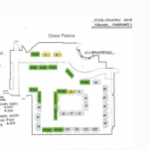 We will attempt to honor specific table location requests within each tier, but these cannot cannot be guaranteed.
Registration and Payment
To reserve exhibit space, please make your payment below. The deadlines for registration are:
Early Bird Deadline – Friday, January 12, 2018 at 11:30 p.m.
Regular Deadline – Wednesday, February 7, 2018 at 11:30 p.m.
Shortly after you register you will receive an email with additional details relating to Expo 2018 and information required to complete your registration. A prompt response will be appreciated and to your best experience and results.
VIDEO/PHOTOGRAPHY CONSENT: By registering for this event, you provide ISM-Houston, Inc. your consent to be included in photographs and video recording of the event.
Expo 2018 Sponsorship Opportunities
2018 ISM-Houston Sponsorship Flyer
Platinum Sponsor $7,500
(1 of 1 Sold - Cole Chemical)
Main Underwriter: 10 min at the podium
4 Dinner tickets at the Reserve Table
Name goes on Website, Eventbrite, LinkedIn, Facebook, ISM Newsletter
(2) Foursome at the ISM Golf Tournament
Booth Exhibitor
Webcast Sponsor for Monthly ISM Meeting
Two Gold Sponsorship $5,000
(1 of 2 Sold - Precision Task Group, Inc PTG)
4 Dinner tickets at the Reserve Table
Name goes on Website, Eventbrite, LinkedIn, Facebook, ISM Newsletter
(1) Foursome at the ISM Golf Tournament
Booth Exhibitor
Webcast Sponsor for Monthly ISM Meeting
Three Silver Sponsorship $2,500
(1 of 3 Sold - Facility Interiors)
2 Dinner tickets at the Reserve Table
Name goes on Website, Eventbrite, LinkedIn, Facebook, ISM Newsletter
Booth Exhibitor