When:
August 12, 2020 @ 1:00 pm – 3:00 pm
2020-08-12T13:00:00-05:00
2020-08-12T15:00:00-05:00
Aug 12, 19 and 26, 2020
1:00 PM - 3:00 PM CDT
Zoom Meetings
Successful Compliance Management
The Role of Supply Management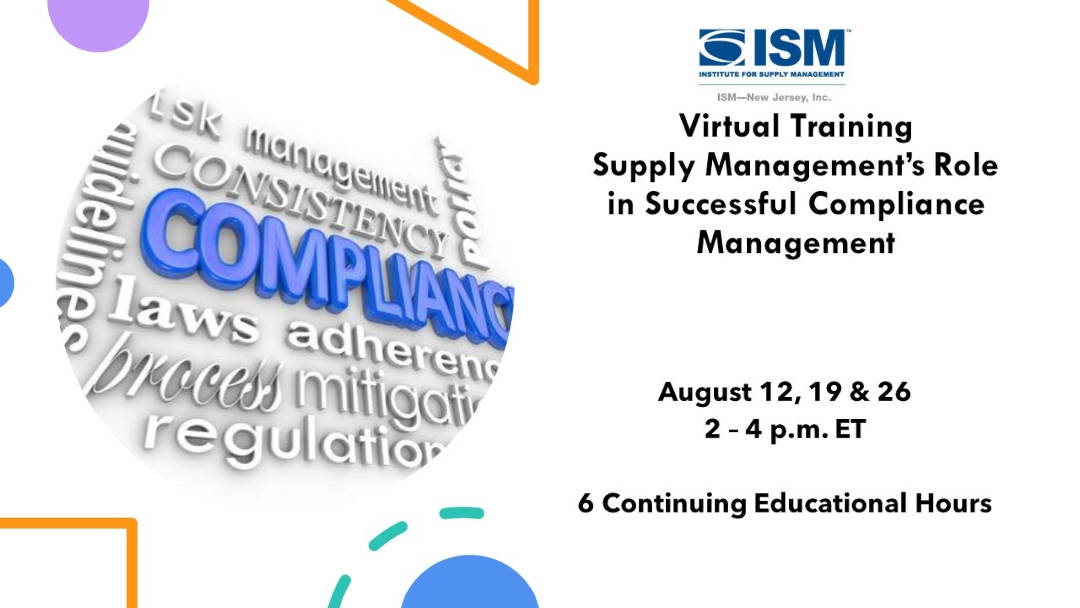 Registration closes Fri, Aug 07, 2020 at 4:00 PM CDT
Compliance and accountabilities have grown substantially since the World Trade event in 2001. Procurement professionals should expect this area to expand with more and more responsibility for ensuring suppliers, transportation providers, internal customers, etc. meet sourcing, regulatory, legal, and environmental mandates.
This six-hour program being offered by ISM-NJ promises to update you on the latest regulations and expectations on the many areas of required by government agencies. The program discusses:
The Importance and Impact of Compliance from a Supply Management and Supply Chain Management Focus
The Compliance Management Process
Planning and Implementing a Compliance Program
Managing Compliance Successfully
Areas of Compliance
Future Compliance Issues and Requirements
Accountability
Software Sources
Compliance Areas
Overview of Guidelines and Requirements
Preparation for the Future
Workplace Coronavirus Management

Office Supplies
Personal Protective Equipment

Security Initiatives
Safety Management
Trade Compliance
Labeling, Marking, Documenting
OSHA
EPA
HazMat
DOT
Chemicals
Importing
Exporting
Endangered Species
Endangered Rain Forests
Diamonds and other Gems
Supplier Compliance Requirements
FDA
Other Government Agencies
Please refer to our payment policy for information regarding cancellations and/or refunds.
Registration closes Fri, Aug 07, 2020 at 4:00 PM CDT
Registration Fees:
Title
Fee
Valid
Dates
Member
Status
Points
CEUs
Hours
ISM Member
$375.00
Aug 1, 2019 – Aug 5, 2020
All Registrants
0.0000
6.0000
0.0000
Non – Member
$425.00
May 29 – Aug 7, 2020
All Registrants
0.0000
6.0000
0.0000
Successful Compliance Management
The Role of Supply Management