When:
October 13, 2020 @ 6:00 pm – 7:00 pm
2020-10-13T18:00:00-05:00
2020-10-13T19:00:00-05:00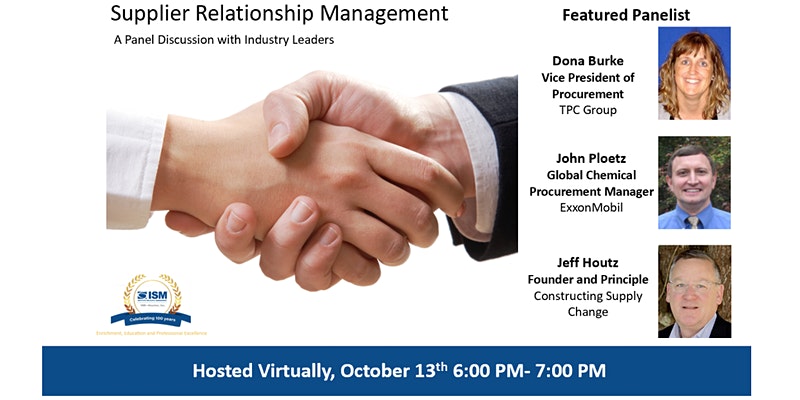 Supplier Relationship Management
A Panel Discussion With Industry Leaders
This is a virtual event
Join ISM-Houston for a virtual meeting where our expert panel will discuss Supplier Relationship Management. Our panel are leaders from our discipline and include:
John Houtz
Jeff served 30 years in the large EPC Contractor space with Fluor, leading project Supply Chain teams worldwide, and in global functional executive leadership roles.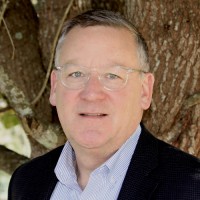 In early 2020, he left the EPC world to launch Constructing Supply Change LLC, a consultancy laser-focused on elevating Supply Chain's roles on capital projects.
Key areas include Digital Supply Chain concepts such as Material Planning, Metrics that Matter, Supply Chain's role in World Packaging, material management systems integration, early supplier collaboration, and effective strategies full of old fashioned common sense.
He's happily served as a researcher for the Construction Industry Institute, and has been a guest lecturer at the University of Houston and the University of Texas.
Dona Burke
Dona Burke currently serves as the Vice President, Procurement for TPC Group in Houston. In this role, Ms. Burke is responsible for TPC Group's indirect services and materials procurement, including warehouse operations.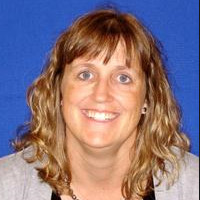 Ms. Burke joined TPC Group in September 2010 as the Director, Planning and Optimization. During her tenure in this role, she transformed the planning organization into a valued resource and business partner.
She transitioned to her current role in April 2017.
Prior, Ms. Burke was with Lyondell-Equistar Chemicals and LyondellBasell, one of the largest plastics, chemicals and refining companies in the world.
Her roles included a progression of management positions in engineering, operations, production planning and EHSS.
Since 2013, Ms. Burke has been a member of Rotary International, an international service organization comprised of business professionals who do service work globally and locally. She has served on the boards of LaPorte, Houston Skyline and Memorial-Spring Branch Rotary Clubs.
Ms. Burke earned a Bachelor of Arts degree in Chemical Engineering from the University of Illinois.
John Ploetz
John Ploetz has a long and illustrious career with ExxonMobil.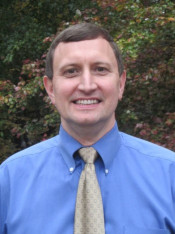 John is currently the Global Chemical Procurement Manager but has held roles as the Catalysts & Chemicals Category Family Manager and the ExxonMobil Catalyst Services Inc. – Director and President
John is married (Carol) with two daughters (Amanda and Becca) and is a proud Boilermaker (Purdue) holding degrees and certifications in:
Master of Science in Industrial Administration (MSIA) – Purdue University
Master of Science in Materials Engineering – Purdue University
Bachelor of Science in Metallurgical Engineering – Purdue University
Certified Professional in Supply Management (C.P.S.M.) - ISM, since '16
Certified Purchasing Manager (CPM) – ISM, since '99
John enjoys pending time with family, travel, hiking, skiing, boating, scuba diving, watching sports and being actively involved in ISM-Houston as a member of the Executive Advisory Board
Supplier Relationship Management
A Panel Discussion With Industy Leaders