When:
January 9, 2019 @ 8:00 am – 4:30 pm
2019-01-09T08:00:00-06:00
2019-01-09T16:30:00-06:00
Where:
Stewart Organization
4335 Directors Row
Houston, TX 77092
USA


Please join us for a Seminar on TAKING CHARGE! -
Negotiating the Deal You Want Every Time
8 CEHs (Continuing Education Hours) Awarded
Ross is an author, consultant, and speaker in the areas of negotiation, sales and employee engagement. He is the author of Turning Your Customers into Long-Term Friends, 100% Employee Engagement—Guaranteed!, The X-Factor and his very popular newsletter: Ross Reck's Weekly Reminder. He is also coauthor of Instant Turnaround!, REVVED! and the best selling The Win-Win Negotiator.
A compelling and dynamic speaker, Ross has been featured at hundreds of meetings, conferences, and conventions throughout the United States, Canada, Latin America, Europe, and Asia. His consulting clients include Hewlett-Packard, John Deere, American Express, Janssen-Ortho, Inc., Shire Pharmaceuticals, Philip Morris International, the Chicago Cubs, Rolls-Royce, and Xerox.
Ross received his Ph.D. from Michigan State University in 1977. From 1975 to 1985 he served a Professor of Management at Arizona State University. During his career at ASU, he was the only two-time recipient of the prestigious "Teaching Excellence in Continuing Education" award and was identified by the university as an "Outstanding Teacher." Since 1985 he has dedicated his full-time efforts to improving the way that the world conducts business.
Program Overview
This program picks up where the Harvard University program Negotiating to Yes (From the book: Getting To Yes) leaves off. Instead of a set of principles, Taking Charge! is built around Ross Reck's four-step PRAM Model, which is the only model in existence that accurately depicts the entire negotiation process. PRAM is an acronym for the four steps of the model, which are: Plans, Relationships, Agreements, and Maintenance. During this program, Ross will show participants how to routinely achieve spectacular results in their negotiations with customers, suppliers, labor unions and employees. Below are some examples of what Ross Reck's negotiation program can do for you and your organization:
Cyprus-Bagdad Copper Company was closed because of depressed copper prices. The employees who were laid off and the company's management were certain that the mine would never open again. Ross showed the members of the supply management department how to use his PRAM Model to negotiate significant cost reductions with suppliers which resulted in the mine re-opening in less than two months.
The Construction Machinery Division of John Deere was struggling and had never turned a profit during the first 23 years of its existence because its major competitor owned the market. Several key people from the marketing department attended Ross Reck's Taking Charge! negotiation program and, that very same year, the division turned its first profit and it has been profitable ever since. Continuing to use the PRAM Model, John Deere has taken a large amount of market share away from its major competitor.
Using the PRAM Model, a fifteen-year labor contract was negotiated between Magma Copper Company and the United Steel Workers Union that brought about annual double-digit productivity gains for Magma and $5,000 annual productivity bonuses for the hourly wage employees. This story made the front page of The Wall Street Journal.
Participants who complete this program will be able to:
Develop plans to achieve spectacular results
Build relationships that lead to "yes"
Negotiate agreements that make both parties better off
Get others excited about telling them "yes" over and over again
Achieve a more rewarding and fulfilling personal life
Delivery Method for the Program
Pre-Work: I highly recommend the following activity: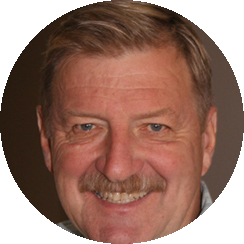 Using the Problem Solicitation Questionnaire, each participant develops a detailed written scenario of a negotiation problem they are currently experiencing.
The participants will bring these scenarios to the program and during the second half-day of instruction; these scenarios will function as case studies.
After the instructional part of the program has been completed, the class will be divided into "consulting teams" of 4-6 people. Each team will select one of the problem scenarios and, using the Negotiation Planning Guidelines, will develop a solution.
The groups will present their problem and solution to the rest of the class and invite additional input from the other participants. The instructor will then debrief each group. This exercise is a very effective part of the program because it is where learning is transferred into action.
Presentation of Core Material: The delivery method used to present this material will be a combination of small group discussion, group exercises, case study, and very lively lecture/discussion. Numerous and hard-hitting anecdotes from Ross Reck's more than 40 years of consulting experience will be used to drive home key points.
Taking Charge
Negotiating the Deal You Want Every Time
Ross R. Reck, PhD
Program Outline One-Day Program
I. Basic Elements of Successful Negotiating
Negotiation is all About People
People Are All Motivated by the Self-Interest
The Entire Negotiation Process Must be Win-Win
You Must Use a Negotiation Model that Guarantees the Deal You Want Every Time
II. The PRAM Model: The Only Negotiation Model That Guarantees The Deal You Want Every Time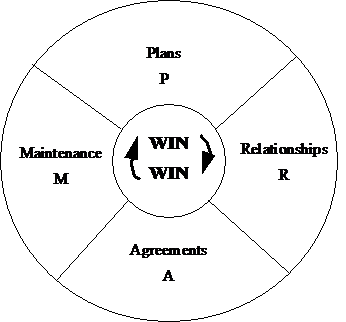 III. Win-Win Plans
Determine Your Self-Interest
Identify the People Who Stand Between You and Success or Failure
Determine Their Self-Interest
Develop a Strategy to Connect the Other Party's Self-Interest with Yours
IV. Win-Win Relationships
Plan Situations that allow a Relationship to Develop
Cultivate the Relationship
Don't Get to Business Too Quick
V. Win-Win Agreements
Verify the Other Party's Self-Interest
Implement Your Strategy to Connect the Other Party's Self-Interest with Yours
Work Together to Resolve any Problems
Finalize the Agreement
Hands-on Negotiation Exercise
At this point, the class will be divided into "consulting teams" of 4-6 people. Each team will then select a negotiation problem that one of the team members owns. Then, using The Negotiation Planning Guidelines, each team will develop a solution to their problem. This is where real learning takes place. Once each group has developed their solution, they will then present it to the rest of the class and invite additional input from the other participants. The instructor will then debrief each group.
VII. Using the PRAM Model as a Diagnostic and Problem Solving Tool
New People
People Who are Irate or upset
People in Power Positions
Objections
Difficult People
VIII. Keys to Making the PRAM Model Work for You
Balance
Integrity
Patience
Testimonials -USA
"Your talk in Washington D.C. has everyone talking about you and the outstanding job you did. The combination of theory, strategy and personal stories made your presentation a power-packed addition to our convention."
Joy Dunlap, National Association of Broadcasters
"You hit a Home Run! Your message was timely, on target and, as always, entertaining."
Pat Rissotto, Neutrogena Corporation
"Your presentation on Win-Win Negotiations met with rave reviews from our sales representatives. All feedback was mostly positive, but people especially enjoyed your enthusiasm and sense of humor."
Patricia M. Hudson, Baxter Healthcare Corp.
"I can't thank you enough for the great program you presented to our group last week. Your energy and enthusiasm are being displayed in our people already. They are still talking about your ideas."
Katherine Keller, Metropolitan Life
"What a terrific presentation you gave to our group in Moline this week! Your enthusiasm was contagious, and I can't wait to get started using your ideas."
Brenda M. Boring, John Deere
"Five years ago I attended your program. Since then my business has increased ten-fold! This past year I sold 126 homes and my gross income exceeded $450,000. This success is directly related to what I learned from your program."
Fred W. Gallow, Realty Executives
"You have the charisma to capture the attention of the group, but more importantly you have a compelling message that will help all of us to be more successful."
J. Douglas McNamee, Reed and Carnrick
Testimonials-International
"I cannot find the words to express my gratitude and congratulate you for the seminars you presented to our clients in Mexico City, Monterrey, Guadalajara, and Zacatecas. You have the unique ability to make learning fun and exciting."
Hugo Fernando Gutiérrez, Director General, Seminarium Mexico
"You have the ability to engage an audience from the beginning of the day until the end. Your content is leading edge and your delivery is dynamic and exciting."
Nancy Park, Korean Air, Seoul, Korea
"Your seminar here in Bogotá was a total success. Attendees sent us a lot of emails with congratulations for your work. Your teaching style and energy made the difference!"
Juan Manuel Vicaria, Owner, Seminarium, Bogotá, Colombia
"What a terrific presentation you gave to our group in Quito! Your enthusiasm was contagious, and your content was right on."
Sara Stisin de Velez, Chaide y Chaide, Quito, Ecuador
"Your presentation in Stuttgart was wonderful. Everyone was buzzing with excitement as they left the Conference Center. You really know how to connect with an audience and your passion for what you do really shows."
Georgina Reichart, Hewlett-Packard, Stuttgart, Germany
"Your presentation in Quito was compelling and dynamic plus I learned a great deal that I can put to immediate use. Thank you for a fantastic two days."
Marco Santacruz, PETROAMAZONAZ S.A., Quito, Ecuador
Allen and Hanburys
American Express Corp.
AZ Public Service Company
Banco Santander
Bank of America
Baxter Dade
Bertek Pharmaceuticals, Inc.
Borden Company
Canadian Assn. Of Broadcasters
Chicago Cubs
Conoco
Coopers and Lybrand
Corning Science Products
Detroit Edison
Exxon
Garrett
General Foods
Gillette Company
Glaxo Pharmaceuticals
Goodyear Tire & Rubber Co.
Greyhound Corporation
GTE Communications Systems
Herman Miller
Hewlett-Packard
Hoechst Marion Rousell
Honeywell, Inc.
Inland Steel
IBM Corporation
Institute for Professional Management
Institute for Management Studies
Janssen-Ortho, Inc.
John Deere
Kimberly Clark
Knight-Ridder
Lederle Labs
Lucent Technologies
Maxum Marine
Merrell Dow, USA
Metlife Capital Corp.
Motorola
Mountain Bell
NationalAssn. Of Broadcasters
Nationwide Insurance
Nestle Mexico
Neutrogena
Pacific Bell
Pfizer-Canada, Inc.
Pneumatic Systems
Potlatch Corp
Red Roof Inns
Rockwell International
Rolls-Royce
Ryerson Steel
Salt River Project
Searle, Canada
Shell Oil Company
Sun Oil Company
TRW
United Way
US West Communications
Vermeer Manufacturing
Wells Fargo
Wyeth-Ayerst
Xerox Corporation
Young Presidents Organization
Get Tickets To This Seminar
Taking Charge!
Negotiate The Deal You Want Everytime