When:
March 19, 2019 @ 5:00 pm – 6:00 pm
2019-03-19T17:00:00-05:00
2019-03-19T18:00:00-05:00
Where:
Houston Marriott West Loop by The Galleria
1750 W Loop S
Houston, TX 77054
USA


Pre-Dinner Meeting | The Effective Leader:
EQ is Critical for Leaders Who Want To Make an Impact
"IQ Gets You Hired – EQ Gets You Promoted"
5:00 PM - 6:00 PM
You know where you're going, you have a good strategy and a solid plan. Your next challenge is getting people on board so you can succeed and help them to succeed.
Ever noticed how emotions—yours and others' can spin out of control in the workplace? Ever wished you could stay emotionally centered, positive and productive—no matter how difficult the people and situations are around you? These skills can be learned – and when used well can help you manage change and achieve success in life.
It's not what happens that matters but how you respond to it that really counts.
Emotional Intelligence is the single most distinguishing characteristic of a leader: whether it is negotiating contracts, integration after a merger and acquisition, or even in positive situations like encouraging company celebrations and closing deals.
EQ is at the core of building strong relationships and cementing your role as a leader.
People who know the importance and practice of heightening their emotional intelligence benefit through increased self-awareness which helps them respond better to others and develops one's level of empathy which can lead to healthier responses from peers, higher ups and those whom they lead,
Research States:
"Managers high in EQ outperformed in terms of increased client satisfaction, lower turnover, and 34% greater profit growth"
"…leaders who created more positive climate had more revenue as well as increased growth"
Managers on the down side of the EQ Spectrum have limited success because they fail to make time to communicate and build relationships. They fail to understand the full meaning of getting work done through people.
Manpower Group finds that nearly 1 in 5 employers worldwide can't fill positions because they can't find people with soft skills.
Today it is a given that effective leaders have a deep understanding of what it takes to develop a high level of emotionally intelligence. Research states that EQ can be learned and increased, this can be seen in employee's performance regardless of industry or position, and in addition, it improves organizational performance and profits. Discover how to enhance and improve your performance and relationships when you develop your "emotional intelligence." Be open and be amazed at the ideas, techniques and solutions you'll learn – and how they can empower you to tackle challenges in the workplace with a new sense of awareness, insight and discipline.
Learning Objectives for this Presentation:
Understand why people with high EQ make better managers and leaders
Learn how limiting beliefs and attitudes can derail your career advancement
Discover ways to circumvent self-defeating communication habits
Acknowledge hot buttons and keep others from pushing them
Move from a fixed mindset to a growth mindset and be more open to how relate to others
Create positive rituals that re-enforce change
About Cecilia Rose
Cecilia Rose, MCC, is a Master Certified Executive Coach and business relationship expert who has over 25 years of experience as a trusted advisor and career and change management strategist working with global Fortune 500 companies.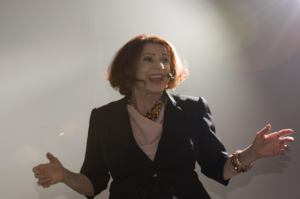 She is a sought-after international keynote speaker and an executive career strategist.
She is recognized as an attitudinal game-changer and an authority on coaching senior level executives, professionals and emerging leaders who are ready to move in, up or out of an organization.
She takes her clients from transition to transformation.
Many are stuck in their careers, at an impasse, want to advance in their careers or are ready to open the door to new opportunities.
She is known for coaching her clients to achieve their most lofty professional goals and her audiences leave ready to take steps toward implementing change initiatives to produce exceptional business and professional results.
She also conducts and facilitates the Open Door Workshop, Group Coaching for Mid-level Managers and Emerging Leaders. Her Deep Dive Series is a monthly 2 hour workshop on topics where she teachs and coachs on Career Advancement, Senior Executive Roundtables and Executive Retreats.
For more information please contact Cecilia at cecilia@ceciliarose.com or visit her website: www.ceciliarose.com
1 CEH (Continuing Education Hour) Awarded
Pre-Dinner Meeting | The Effective Leader - Free Event
EQ is Critical for Leaders Who Want To Make an Impact