When:
May 12, 2020 @ 6:30 pm – 7:30 pm
2020-05-12T18:30:00-05:00
2020-05-12T19:30:00-05:00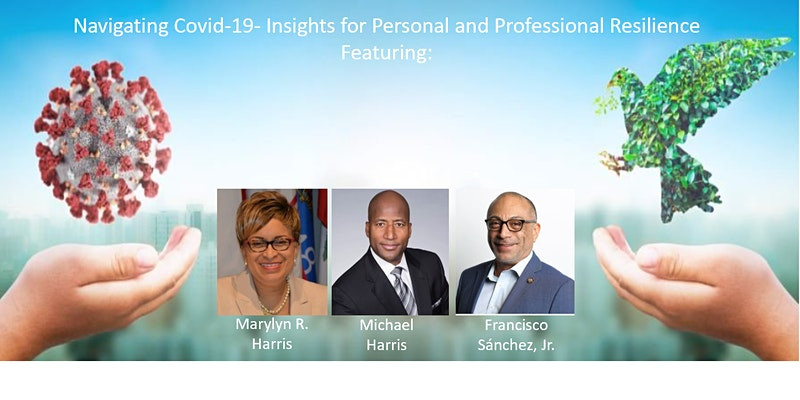 Navigating Covid-19
Insights for Personal and Professional Resilience
About this Event
Join ISM-Houston for a special, virtual May Professional Event.
We will be hosting a free panel discussion on navigating personal life and professional life during these unprecedented times. The panel will feature:
Featuring: Marylyn R. Harris, Michael Harris and Francisco Sánchez, Jr.
---
Marylyn R. Harris
Marylyn R. Harris is a former Army Nurse, Gulf War Veteran and Social Entrepreneur with tenacious personal resilience.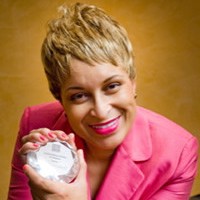 Harris grew up in a suburb of Philadelphia during the 1960's in an era of turbulent societal unrest. The President of the United States and noted civil rights leaders were assassinated. Harris was full of questions.
In 1969, she was an eight (8) year old second grader. One day while she was at school, Harris lost her thirty-nine (39) year old mother to cancer. Immediately, a "village" of extended family members, teachers, church members, friends and neighbors emerged. They nurtured Harris enabling her to avoid going into foster care. Over the next four years, she mourned the death of both of her maternal grandparents and godmother.
These distressing events increased the uncertainty of Harris' dreams of being the first college graduate in her family and a U.S. Congresswoman. In retrospect, throughout this time, Harris was seemingly enrolled in "leadership training." The formation of her work ethic, core values, human resource and supply chain management skills were all "in development." She was a twelve-year-old "apprentice."
Harris graduated from high school and needed financial assistance to attend college. She secured enough funding to pay for her first year of college entirely with scholarships and grants. On her second day at college, she signed up for a student work-study job and applied to work part-time as a nursing assistant at the nursing home across the street from the college.
During her sophomore year, Harris experienced financial hardship and dropped out of college. Harris searched for a solution. She joined the U.S. Army Reserves in 1981. Harris earned military occupational specialties (MOS) as a Medic (91B), X-Ray Specialist (91P) and a Practical Nurse (91C).
She upheld her goal of completing college and becoming an Army Officer. Harris joined the Reserve Officers Training Corps (ROTC) at a local university.
Ten years later, (in 1990), Harris lived in Texas. Minus her military unit, Harris individually was deployed to Saudi Arabia, to support Operation Desert Storm/Shield (The Gulf War).
Harris was assigned to an Army Evacuation Hospital during the war. She worked as a Nurse Supervisor in the hospital's Medical Intensive Care Unit (MICU). Harris provided care to hundreds of allied forces, POWs and others. The Gulf War was an overwhelming experience that tested her coping skills.
After the war, Harris found herself back in Houston, homeless, raging and alone. She was single, with no family in town. She quickly realized that she was forever changed by her Desert Storm experience.
Harris, a female War Veteran, earned a National Defense Service Medal, Kuwait Liberation Medal and an Army Commendation Medal for her Service and Valor. She also returned with letters behind her name (PTSD) Post Traumatic Stress Disorder (PTSD), (MST) Military Sexual Trauma (MST) and a host of physical challenges.
Today, Harris is a sought-after speaker by audiences across the country. In May (2019) Harris was chosen as the Memorial Day Speaker for the City of Houston. Harris speaks on topics that include, Mental Health, (Women) Veterans issues and Entrepreneurship.
Harris advocates for continuous personal development and ongoing personal resilience building to deal with life's countless challenges.
Harris is a single mother of two and lives in a Houston suburb. She loves to read, travel and explore technology, and she especially enjoys the Houston Symphony. Harris volunteers with numerous civic, professional, faith-based and military organizations. She serves as the Houston-based Executive Director of the Women Veterans Business Center.
---
Michael Harris
Michael Harris' service, dedication and commitment to the City of Houston, its constituents, and the people at-large began as a Police Sergeant for the Houston Police Department in 1986.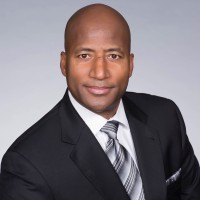 Since that time, commitment and community involvement has been evidenced in every area of his work, profession and career. Harris is known throughout the City and State in business, legislative, political and community arenas.
While on the police force, Harris received the honor and distinction as "Officer-of-the-Year" and was also recognized with law enforcement's "Outstanding Texan Award."
Harris brings over 25 years' business management, community relations, government affairs, public policy and public service to McCall. Prior to joining McCall, Harris founded The Harris Law Firm, where he represented and counseled clients in all areas of Texas law.
His current practice includes tending to the day-to-day functions of advising, defending and strategically planning individual caseloads for both individuals and businesses.
Civic and educational causes are equally important to Harris, where he is involved with organizations such as the National Association for the Advancement of Colored People (NAACP), Urban League, United Negro College Fund, National Head Start Program, Texas Children's Hospital, Gulf Coast Community Service Association, My Brother's Keeper Outreach Center, Alpha Phi Alpha Fraternity, Star of Hope Mission, The 100 Club, Greater Houston Partnership, and the Texas Association of Business
---
Francisco Sánchez, Jr.
Francisco Sánchez, Jr. is liaison and public information officer at the Harris County Office of Homeland Security & Emergency Management.
He served on command staff during the Houston area's response to Hurricanes Katrina and Rita in 2005 and managed the Regional Joint Information Center during Hurricane Ike and active 2008 hurricane season.
In 2013, Francisco was appointed to serve on the Communication Security Reliability and Interoperability Council, an advisory committee of Federal Communications Commission. The council provides advice on emerging 911 technology, alerts and warnings and cyber security.
He is a member of the San Jacinto All Hazards Type-III Incident Management Team, one of only eight such teams sanctioned by the state for deployment by the governor, and of Ponderosa Fire Dept.
He is a member of the U.S. Department of Homeland Security Integrated Public Alert and Warning System Working Group, Houston Urban Area Security Initiative Regional Collaboration Committee, Greater Houston Partnership Disaster Recovery Task Force, East Harris County Manufacturer's Association Community Relations Committee and Harris County Disaster Animal Management Task Force.
Francisco has been a featured speaker at the National Hurricane Conference, National Conference of State Legislatures, Texas Homeland Security Conference, Emergency Management Magazine, National All‐Hazard Incident Management Conference, Emergency Management Association of Texas Symposium.
Memberships in professional organizations include the National Association of Government Communicators, International Association of Emergency Managers, Emergency Management Association of Texas, State Firemen's and Fire Marshals' Association of Texas, Harris County Fire Fighters Association, Houston Association of Hispanic Media Professionals and others.
Francisco Sánchez is a graduate of the University of Houston and serves on boards and leadership positions of numerous local and national organizations.
Navigating Covid-19
Insights for Personal and Professional Resilience