The ISM-Houton 2020 - 2021 is Here!
The Candidates
The Vice President Nominee
Cesar Ayala, MBA, CPSM
Vice President Nominee
Cesar sees the value ISM Houston can bring to our fellow supply management professionals and is seeking your help to be the next Vice President. He sees the two year commitment as an opportunity to build on our momentum of recent years and strengthen our value proposition.
Cesar has been active in ISM Houston since 2011, focused on three main contributions:
Professional Development
2019-20 Webinars, Programs Committee
2017 Panelist, Negotiation Panel, Pre-Dinner Meeting
2017 ISM Houston Speaker, Supply Chain Careers at Texas A&M Mays Business School Annual Case Competition
Case Competition
2017-19 Case Expert
2016 Co-Chair, First Annual Case Competition
Emerging Professionals Group
2016-17 Chair, EPG
2014-16 Committee Member, EPG
Cesar is a Category Manager for LyondellBasell, one of the world's largest plastics, chemicals and refining companies.
He has broad procurement and supply chain experience and joined LyondellBasell in 2015 after serving in a variety of positions in the Energy industry. He has leveraged his commercial acumen to lead major purchases of goods and services that expand capabilities into new countries.
A lifelong learner, Cesar reads for pleasure every day and enjoys exploring historic cities with nothing more than a good map and list of key phrases.
Local Director Nominees
Please Select Only One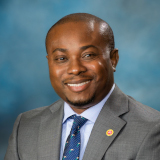 John Atasie
Local Director Nominee
John Atasie is the Chair for General Meetings of ISM Houston, located in Houston, Texas.  In this role he manages all aspects of the Galleria area meetings, which includes the arrangement of the meeting rooms for the monthly pre-dinner sessions and professional dinner meetings.
He also collaborates with the Marriott in the planning of the meeting settings, and guaranteed number of attendees for each meeting.
John was the 2018-2019 recipient of the prestigious "Billie Jean Sommer" outstanding new member award for meritorious service because of his immense contributions, commitment and ethics of responsibilities.
He previously served in the Emerging Professional Group as a Committee Member, Chair Membership Services and member of various committees in ISM-Houston. He also assisted in recruiting a number of board members for the current program year.
John is a Global Supplier Data Specialist in the Oil & Gas Industry, with proficiency in master data governance, source-to-pay systems, procurement, strategic sourcing, contracting, category & spend management, supplier onboarding & supplier relationship management, and functional & transactional excellence.
He earned a Bachelor of Science Degree in Insurance/Actuarial-Science and MBA with a concentration in Supply Chain Management from University of Houston-Downtown.
John is actively involved in networking activities in the oil & gas and supply chain professional organizations, community engagements & partnerships, and selfless services of giving back through volunteering and charities.
Prior to his transition to supply chain, John has gathered over a decade experience in underwriting, risk analysis, claims management, new products development, customer service, banking operations, property development, and criminal justice systems. These experiences are added value and being utilized in other areas of operations and supply chain management.
John and his lovely wife, Joy, are happily married and blessed with three adorable children. He enjoys spending time with family and traveling.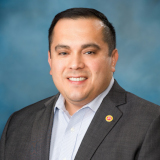 Richard Mejia
Local Director Nominee
Richard Mejia has served on the ISM-Houston Board of Directors as Special Committee Chair of the Emerging Professionals Group since the 2017 program year.
He has led professional development events, networking events, created and manages the EPG Volunteer Team, successfully manages an EPG annual budget, recruits guest education speakers, secures event sponsorships and facilitates mentorship relationships for individual EPG members.
He is also responsible for negotiating and facilitating the execution of the event venue contracts. Richard and the Emerging Professionals Group have also expanded their presence at the ISM-North extension general meetings in the Woodlands.
During the ISM-Houston 2016 program year, Richard served as Co-Chair of Academic Partnerships where he interacted with local University students interested in pursuing careers in Supply Chain Management and volunteered at the annual case competition.
During the ISM-Houston 2015 program year, Richard served on the Memberships committee where he worked with the Memberships chair to increase ISM-Houston membership and expand the company coordinator program.
In 2019, Richard was nominated Toastmasters VP of Membership for the local area chapter. As VP of Membership, he was responsible for new member onboarding and attentively analyzing membership levels while strategizing with the executive committee on overcoming membership challenges.
During the Summer of 2016, Richard was accepted and graduated from the Greater Houston Hispanic Chamber of Commerce Emerging Leaders Institute. The Emerging Leaders Institute Program consisted of professional development workshops and lectures presented by Dr. Laura Murillo, CEO & President of the Greater Houston Hispanic Chamber of Commerce.
On July 14, 2016, Richard was accepted into the M.D. Anderson Cancer Center Young Adult Advisory Council. While on the Council he utilized his business acumen to improve care and social support programs for young adult cancer patients and families at M.D. Anderson Cancer Center.
Richard is a graduate from the C.T. Bauer College of Business at the University of Houston with a Bachelors of Business Administration in Supply Chain Management and a Minor in Marketing. While at the University of Houston, Richard had various leadership roles on the ISM Student Organization.